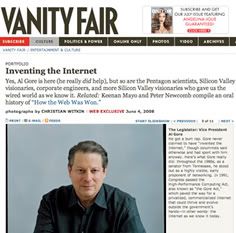 In recognition of the 50th anniversary of the creation of ARPA (the Advanced Research Projects Agency), the Department of Defense agency that would give birth to what is now the Internet, Vanity Fair has attempted to compile an "oral history" of the Internet, from ARPA to today.
So how'd they do?
Al Gore aside, they did pretty well, at least at a high level, interviewing pioneers such as Paul Baran (the inventor of packet-switching), Vint Cerf (the inventor of the TCP and IP protocols), Bob Metcalfe (the inventor of Ethernet), Marc Andreessen (Netscape), Jeff Bezos (Amazon), Jerry Yang (Yahoo), Larry Page (Google), and Jimmy Wales (Wikipedia).
It's mind-blowing to think that something so basic as a computer network wasn't always so obvious, and how technology that we use every day and take for granted could very easily have never existed but for a few brilliant minds.
However, while quite lengthy, the article certainly isn't a comprehensive history. There are a lot of things not covered in the article, some of which seem to be rather glaring omissions (for example, no mention of Cisco at all).
Some other missing pieces:
Xerox PARC
CompuServe and Prodigy
Other protocols: Gopher, Telnet, FTP, Wi-Fi, Wimax, Bluetooth, IPv6, AppleTalk, Frame Relay
IIS and Apache
HTML, XML, Perl, PHP, Java, ASP, Ajax, Flash, Photoshop
The breakup of AT&T in 1984
The reshaping of the Baby Bells into the major telecoms of today (AT&T, Verizon, Sprint, Qwest)
The role pornography played in driving consumer Internet usage early on (whitehouse.com)
Canter & Siegal (a law firm which posted the first commercial mass advertising online [on Usenet] in April 1994)
Intel and AMD
HP, Compaq, DEC, IBM, Dell, Gateway, Sony
ICANN
Instant Messaging and SMS
P2P (Napster) and Bittorrent (The Pirate Bay)
RSS and Podcasting
Other browsers: Firefox, Safari, Opera, Flock
"Irrational exuberance" (Alan Greenspan, explaining the dot-com bubble)
"It's a series of tubes" (Senator Ted Stevens, describing the Internet)
Peapod and Webvan
Mark Cuban (Broadcast.com)
Wardriving
Digg, del.icio.us, Reddit, Newsvine, Last.fm, Pandora
Tech blogs and reporting: TechCrunch (Mike Arrington), Ars Technica, The Register, Slashdot, BoingBoing (Cory Doctorow), Rocketboom (Andrew Baron), Robert Scoble
TechTV, CNET, and ZDNet (Leo Laporte, John C. Dvorak, Patrick Norton, Tom Merritt, Chris Pirillo)
And what about the dark side of the Internet?
Privacy and security risks (phishing, identity theft, government wiretapping, adware/spyware)
ISP packet-shaping and bandwidth-throttling
Copyright infringement paranoia (DMCA, DRM, RIAA lawsuits, Allofmp3.com)
What else is missing?