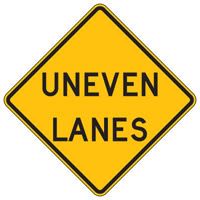 There's a spot on eastbound I-635 in north Dallas where the outer edge of the right-hand lanes dips suddenly, causing the shoulder to be slightly higher. If you happen to hit the spot with your right front tire, it can easily cause you to lose control of your car, especially if you hit it at 50 or 60 miles an hour.
I've made that mistake a few times on my way to work, and even though I've never fully lost control, it's certainly scared the crap out of me.
It's a dangerous spot, a defect so small and minor that it's almost completely unnoticeable but significant enough to cause a major wreck for anyone caught by surprise. But here's the thing: While it would be so easy to patch it up, road crews chose instead to simply mark it with a warning sign:
UNEVEN LANES
How many times do we do the same thing in our own lives? We carry around a small but dangerous defect in our ourselves. Maybe it's in our choices, maybe our attitude, maybe it's the words we use. It's barely noticeable — if it's noticeable at all — but it has the capacity to cause significant damage to ourselves and the people around us. We'll go so far as to acknowledge the problem, but ultimately we're unwilling to do what it takes to actually fix it.
The apostle Paul points out in Galatians 2:16 that no one can ever be made right just by trying to do the right things; it's only by placing our faith in Jesus Christ that all of our holes, dips, and defects can be fully mended.
What areas of my life are in need of repair today?  What needs to be repaired in yours?