The recent outbreak of swine flu cases in Mexico and the U.S. probably warrants aggressive action — mostly preventative measures — but just how bad is the outbreak really?
The World Health Organization recently raised its pandemic alert level to Phase 4, which sounds pretty scary. What's Phase 5, where everybody's faces melt off like in "Raiders of the Lost Ark"? Because, you know, that would suck. Even the word "pandemic" sounds terrifying, as if we're living during the height of the Bubonic Plague.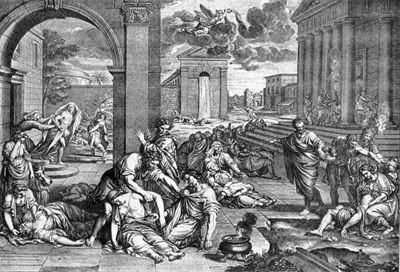 But according to the latest numbers at the CDC, there have only been 64 confirmed cases of swine flu so far in the U.S. and only one death: a toddler from Brownsville who recently visited Mexico. Is that a lot? Doesn't seem like it. I mean, how many deaths are there annually from the regular flu?
Stephen Hume of the Vancouver Sun puts it in perspective, comparing today's swine flu outbreak to the Spanish flu outbreak of 1918 — one of the worst pandemics in recent history:
It's estimated that about 28 per cent of Canadians and Americans contracted the Spanish flu. Worldwide, an estimated 2.5 per cent of the sick died of complications, which made the pandemic one of the most lethal flu outbreaks in recorded history. Certainly it was one that imprinted itself upon human consciousness for several generations.

But there's another way to look at those statistics. You might observe, for example, that they mean that even during the worst ravages of the 1918 flu, 97.5 per cent of those infected survived and recovered. Or that 72 per cent of the population — even in the absence of the sophisticated public health planning and infrastructure that Canada and the U.S. have since built — was not infected during the pandemic.

So, even if we had a repeat of the 1918 flu, the chances were seven out of 10 that you wouldn't catch it and if you did, the odds were better than nine out of 10 that you'd survive.

That was during the worst pandemic of the modern era and one which occurred in the days before the instantaneous communications of radio, television and the Web enabled quick public health responses.
My guess is, the biggest cost of our current flu outbreak will not be in terms of how many people contract the illness or die from it, but rather the economic consequences of closing schools and businesses and restricting travel. And even then, I'm guessing those costs will be minimal.